Each month we introduce you to one of our fantastic team members. Meet Center Investigator Teresa Sparks, MD, MAS!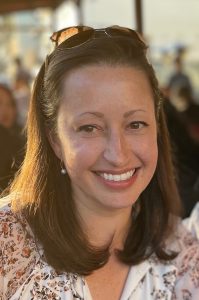 Q. Tell us about yourself.
A. I am a physician who specializes in Maternal-Fetal Medicine and Clinical Genetics. In my clinical practice, I perform prenatal ultrasounds and provide care for pregnant individuals who themselves have a genetic disease, for pregnancies with a fetal genetic disease or birth defect, and for individuals with other medical conditions that increase risk during pregnancy. If I had to choose a subspecialty all over again, I would still choose this one! A substantial proportion of my time is spent doing research. My research focuses on understanding the genetic changes that lead to fetal birth defects and hydrops fetalis.
Q. Why do you love working at UCSF and the Center?
A. I originally came to UCSF as a medical student, and it has again been my home since I returned for fellowship in 2013. I love working at UCSF and as an investigator in the Center for Maternal-Fetal Precision Medicine because my colleagues are invaluable and inspire me every day. It's a privilege to work in an environment where my research collaborators are friends and where cutting-edge multidisciplinary science is pushed forward daily.
Looking To The Future
Q. What excites you most about your work thus far and looking into the future?
A. I am excited to continue learning about genetic changes that underlie fetal birth defects and hydrops fetalis. My hope is that our research will translate to improved care and decision-making opportunities for these complicated pregnancies, as well as novel prenatal strategies to optimize outcomes for continuing pregnancies. I am also inspired to continue mentoring my junior colleagues and pay forward the invaluable mentorship that I have received. Finally, I am thrilled to join the Society for Maternal-Fetal Medicine (SMFM) Publications Committee in February 2023 following the annual meeting. Through this opportunity, I will contribute to the writing and reviewing of many new and revised SMFM documents that guide clinical MFM care.
Did You Know?
Q. What's a surprising or interesting fact about you?
A. I am half Costa Rican, which most people don't know about me. I enjoy cooking that gets back to some of those roots. I danced ballet competitively through college and after this for purely my own enjoyment. It was not until I was 34 weeks pregnant with my daughter during residency that I finally stopped dancing. However, my aspiration is to return to classes someday soon. Additionally, for many years, I played violin. My job during high school was playing in a string quartet for weddings around Sonoma County most weekends.